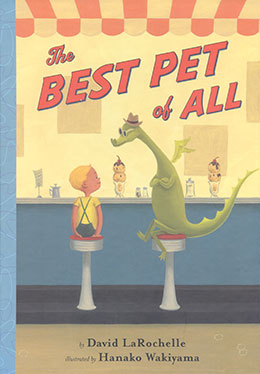 by David LaRochelle
illus­trat­ed by Hanako Wakiya­ma
Dut­ton Books, 2004
Ages 4 to 8
ISBN 978–0‑14–241272‑5
When a boy's moth­er won't let him have a dog for a pet, he asks if he can have a drag­on instead. Enter the coolest, but naugh­ti­est, pet ever. This drag­on is messier and loud­er than any dog, and he will not leave. Only a clever plan on the part of the boy can bring about a hap­py end­ing for everyone.
Teach­ers and librar­i­ans! Give your stu­dents the chance to become stars with this easy-to-read Read­er's The­atre script of The Best Pet of All, adapt­ed by mas­ter media spe­cial­ist Julie Reimer. No cos­tumes or sets necessary!
Lucky me! Actress Reese With­er­spoon chose The Best Pet of All to read out loud dur­ing the East­er Egg Roll at The White House!
Book­sense Top Ten Children's Books – Autumn
Child Mag­a­zine Best Books
Min­neso­ta Book Award
New Hamp­shire Lady­bug Pic­ture Book Award nom­i­nee
Cal­i­for­nia Young Read­er Medal nom­i­nee
St. Paul Reads Book Club selec­tion
Bel­gium Chil­dren's Jury Award nominee
"A fresh, fun frol­ic." (Book­list, starred review)
"A hap­py wag of the kid-wants-dog tale, with guar­an­teed gig­gles." (Pub­lish­ers Week­ly, starred review)