Minnesota's Hidden Alphabet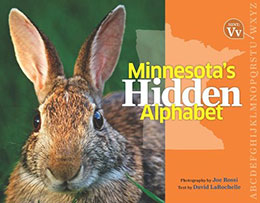 pho­tographs by Joe Rossi
Min­neso­ta His­tor­i­cal Soci­ety Press, 2010
all ages, ISBN 978–0‑87351–808‑6
All across this won­drous state,
Let­ters A through Z await…
In a series of twen­ty-six stun­ning pho­tographs, Joe Rossi explores the beau­ty of Min­neso­ta's great out­doors. In a tan­gle of tree branch­es he dis­cov­ers the let­ter A. In the pat­tern of a turtle's shell he finds the let­ter B.

David LaRochelle's lyri­cal text invites read­ers to step out­side and take a clos­er look at nature for them­selves, while his infor­ma­tion­al side­bars pro­vide fas­ci­nat­ing facts about each pho­to.

What are you wait­ing for? Go out­side and dis­cov­er your own hid­den alphabet!
Teach­ers, this free teach­ing guide will give you lots of ideas on how you can use this book to explore nature with your students.
North­east­ern Min­neso­ta Book Award